Denkstahl @ MakersPlace
From the universe to the multiverse via metaverse – one opportunity in our increasingly technocratic and digital world. And certainly art must not go amiss within the metaverse. Because, what would life be without art?!
We are very excited to dive into the world of NFTs and announce our cooperation with MakersPlace. The first DENKSTAHL NFT drop on the curated platform MakersPlace will take place on May 24, 2022, starting with 3 works from the HOLY DIRTY MONEY series …
Digital Money Art by DENKSTAHL – powered by NFTs
I am very pleased to be working with the entire DENKSTAHL team on the release of this artist's first purely digital works (NFTs). The first drop from the HOLY DIRTY MONEY series will take place on May 24, 2022 and will include the one-of-a-kind Ticket To Mars II as well as a limited edition of the artwork New Generation Off, one of my personal favorite …
Holy Dirty Money
Money makes you calculate and it is always about quantity. For it has long since ceased to be just a means of exchange and payment, it now also is the symbol of prosperity, wealth and power. But how much property and wealth do we really need? How much of the more-more-more is really enough? A degenerate need that cannot be satisfied per se. We are heading for the endgame of the ego …
May 15, 2022 – ILKNUR & NORA
Book New Release: DENKSTAHL. art of a rebellious mind
The third modified edition of the biographical art book DENKSTAHL. art of a rebellious mind has been published this year in English. The changes are mainly related to the expanded chapters of the art series with recent works of the Frankfurt artist: remains of peace, what a wonderful world, coronart, heroes, coronart, heads, tribute to …
And then when we leave someday
Artists, free spirits, pioneers, poets and thinkers, rebels, outsiders, big and small, bright and dark stars – all living beings. We can assume that most people have already asked themselves at least once in their lifetime why they are mismatching. Asking yourself why you are so different from everyone else, why you feel like an alien, doesn't seem surprising.
Of course, self-doubt, uncertainty, all those intangible questions, and the feeling of strangeness are something …
The art of not being an artist
My primary interest in art does not lie in the sphere of craftwork or techniques. Neither do I try to deliver appealing results appropriate for, or adapted to the viewer. The latter idea in particular exists in thousands upon thousands of versions. I call this kind of art »decorative painting«. In most cases, its only purpose is the ability to earn a living with it. That's why artists are always very adapted/pretentious – to please the possible buyer and not to confront them with the very thoughts they try to avoid…
Denkstahl – an artist between classical art history and rebellion
With all the rebellion we encounter in DENKSTAHL's work, he is still heavily influenced by the history of art. Bonds that are familiar to the observer from classical art history can be found again and again. His references range from portrait and genre painting of the Renaissance and Dutch landscape painting to surrealism and abstraction. It is this combination of well-known pictorial traditions, splendor of colors …
Humanity or the art of being human
We all have an idea of humanity and, consciously or not, evaluate and categorize behavior as being  »human« or »inhuman«. But what exactly does it mean to be human? What is humankind or humanity? Philosophical approaches define »human« in the sense of being »ethically valuable«. There are various semantic levels to the term »human«; the term relates to man, expresses certain characteristics belonging to man, and pronounces the simple concept …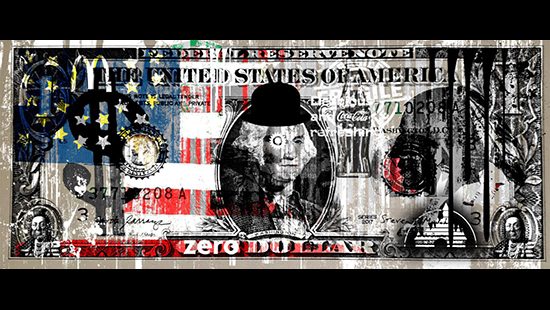 Art, Commerce, Money and Money Art
The debate about art & commerce has always been topical. The range of meanings around art & money have been reflected in the works of certain artists since the last century.
Money art – already a standing term – shows how artists reflect on money and the social and individual evaluations of money as a means of payment …
Denkstahl @ Dollar Art
Dollar art has recently found its way into DENKSTAHL's work. Money Meets Street is the name of the new series from DENKSTAHL, made from original one dollar bills.
Digital art, pop elements, comic and street art style but also classic ink – all meet in the DENKSTAHL Dollar Art. The series is limited to 50 unique pieces. Each dollar bill is a unique piece, stamped and signed by the artist …
A day without a smile is a lost day – so what!?
It is somewhat a tragic comedy; I dare say that this is an analogy to life.
»It doesn't matter«, »so what«, »nevermind«, »it is not important« – many arguments have probably started in this way. But nothing is irrelevant, nothing is unimportant and nothing is meaningless …
Sweet singing has betrayed some birds – Twittered Out
A tweet; a twittering, a birdsong. As we understand it today, a tweet no longer has anything to do with nature or the innocent, beautiful sound of a bird. Rather, it is representative of the entire digital world; for the abysses, temptations, and purposes of social media. It is impossible to imagine many people's everyday lives without it. Without the long-awaited chirping of the phone when a new …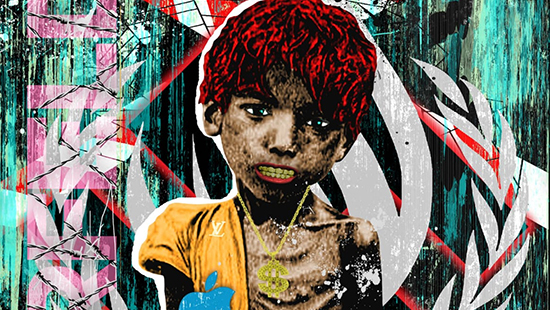 Dedicated to the children of tomorrow
I have dedicated the images and texts to the children. For love, truth, freedom and life!
There's a human child in discomfort as if they're cutting his heart out. No-one takes any notice of all the ongoing anguish. We hear him whining, whimpering, screaming. We could just free him. But this is too much fuss, people, what is wrong with us? 
No picture on its own may honestly bespeak, what needs to be said
An adapted artist always resembles a circus monkey, and the people with stares so hungry, will nevertheless only remain zoo visitors. But one day he'll be ready, when his soul screams incredibly, he'll come to his senses, the zoo visitor out of his senses will recognize the true creation and in the partiality for artistry, what once was cursed, he then found, what he was longing to find at first …
Artist AL, Denkstahl in an Interview
The name DENKSTAHL (thoughts of steel) says it all and aptly describes the artist's message. Whether in pictures, poetry or prose; in essence, his works are all the same. AL is concerned about the confrontation with the »illusory world«, and about radical food for thought!
In the following, AL is in an interview with Sequana Birkel. Sequana studies American Studies at the Goethe University Frankfurt…
Denkstahl @ Ibiza Private Jet Terminal
Till the end of the year, Art Gallery Adriana is exhibiting the works of 11 international artists in Ibiza's private jet terminal. Under the motto Art & Fly, art manager Adriana Peterova presents contemporary art consisting of objects and murals on the popular Balearic Island.
Nine works of art by DENKSTAHL can be seen there, including Everything's so Colorful Here, Consumption, Protest Deluxe, Money Drives You Crazy …
Denkstahl @ Max Papeschi in Milano
The DENKSTAHL artist AL visited his colleague Max Papeschi in Milano. AL and Max get along really well and are able to communicate with each other through their artworks. The language within their symbolic images and their meaningful titles are all they need.
Both Max and AL are dedicated to socio-critical issues, by drawing upon irony and parody. Both artistically explore the world, the big systems and our lifestyle without losing their sense of humor. Also, there are similarities in their technique and methodology. The digital collage as a medium allows the artists to react quickly to all current affairs …
Buy art! Invest in living artists!
Because the dead ones don't need it!
It is important, for the sake of your personal and the social wellbeing, to surround yourself with art – with contemporary art that reflects current events, takes up issues of being human and tells our story. Embedded between the past and the future, contemporary art shows us what perturbs and concerns us. And what people, gods and worldviews we make of ourselves …
DENKSTAHL. art of a rebellious mind – the book
In the art book DENKSTAHL. art of a rebellious mind, collected images and texts reflect part of AL's work. The first part of the book is a biographical account and contains illustrations of his earlier works of art. Later turning to digital art, AL takes up digitally the expressions and motifs known from street art. The resulting picture series Digit-AL Streetart, Heads, Living On The Wall, Denkstahl and United Colors Of Denkstahl …
DENKSTAHL STREET ART – the book
DENKSTAHL STREET ART is very articulate, his language is often poetic. The written, sprayed or glued statements and expressions bring the artist's subversive thoughts onto the streets; they should set an impulse, an impetus, to stop, to pause for a moment, to question one's own way of thinking, to doubt one's self, or even to smile …
Just imagine, we would only be heads – HEADS II
In the second part of the HEADS series, DENKSTAHL portrays celebrities of modern history. It is the movie stars, music stars, art stars, political stars and sports stars of a pop culture, it is the geniuses, heroes and legends that DENKSTAHL honors on his digital canvas. 
For their fans, they play an identity-forming role. Marilyn Monroe, Audrey Hepburn, Marlon Brando, Steve Jobs …
Just imagine, we would only be heads – HEADS I
The series HEADS by DENKSTAHL reinvents portraiture with political, religious and historical content. His digital collages are rich in well-known symbols and new-modern logos. The symbols make the artworks a narrative. With his pictures, DENKSTAHL tells his own version of the story. Well-known personalities put their necks on the line in a dignified way …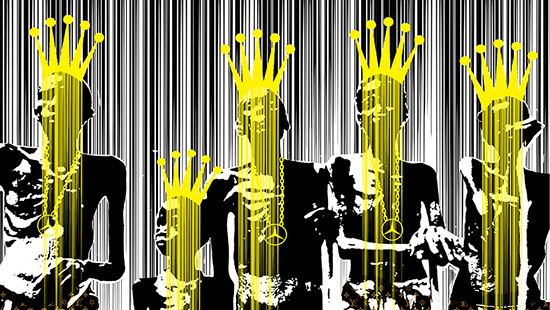 Digit-AL Streetart by DENKSTAHL
DIGITAL ART meets STREET ART – Inspired by the contemporary trend of street art and the possibilities of the digital art form, AL created his Digit-AL Streetart. Virtual presence has increasingly played a role in urban art and the conquest of public space. Especially among the newbies of the street art scene, a photograph of the work is just as important as the original on the street. These photos …